Mr Thomas Crompton is a children's orthopaedic consultant at The Royal Alexandra Children's hospital in Brighton. Thomas's interests span the range of children's orthopaedic conditions, including neuromuscular conditions such as cerebral palsy. He also has a special interest in children's trauma. He provides children's orthopaedic services across Brighton and London.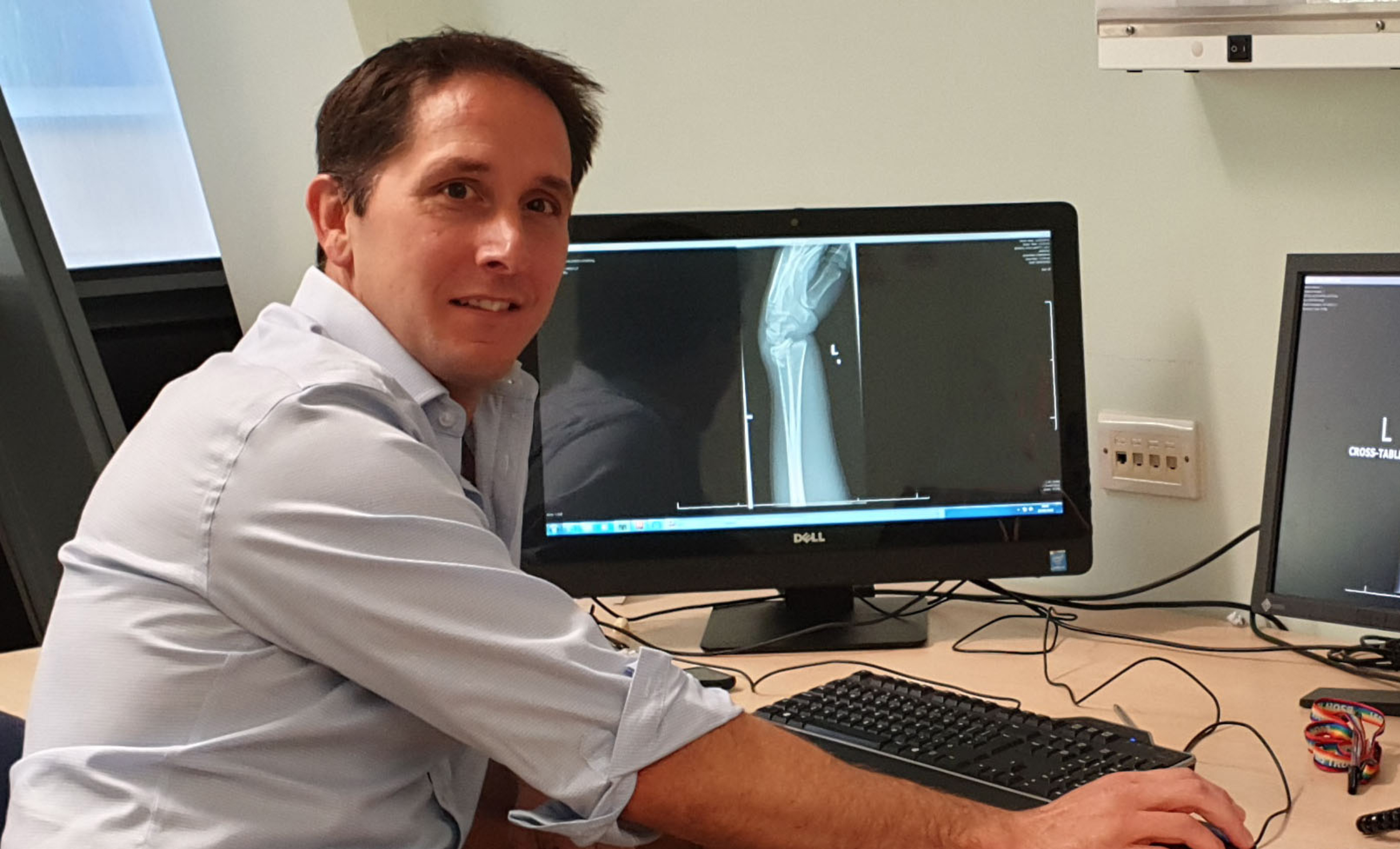 He qualified from Barts and The London Medical School and undertook his registrar orthopaedic training based at Guy's and St Thomas' hospitals. Following this, he had specialist Children's orthopaedic fellowships at Westmead Children's hospital Sydney and The Royal London Hospital. He is a member of the Royal College of Surgeons and the British Society for Children's Orthopaedic Surgery.
Outside of medicine, he likes to keep busy with multiple hobbies including team squash for The Dolphin club in Haywards Heath, golf and tennis. Home is currently shared with his wife, 2 golden retrievers, chickens and bees.
Charity work
Tom is involved in a number of charities related to his work. In 2017, he cycled across Rwanda for Rockinghorse, and will also be running the Brighton half marathon in 2020 for the charity. Rockinghorse raises money at the Royal Alexandra Children's Hospital for life-saving medical equipment and resources. Without their support, the virtual fracture clinic that Tom oversees would not have been possible.
He is also on the board of governors for the Ronald McDonald House Brighton. This provides free 'home away from home' accommodation to families with children in hospital, enabling them to stay close to their child and maintain a degree of normal family life.
SPRINT fund is another charity that Tom supports, and he sits on the board of trustees for the charity. Their work is dedicated to the support of training and research in the treatment of trauma and orthopaedic conditions for the benefit of patients in Brighton, Hove and Mid-Sussex.
Publications
The prevalence of bifid iliopsoas tendon on MRI in children. Crompton T, Lloyd C, Kokkinakis M, Norman-Taylor F. J Child Orthop. 2014 Aug; 8 (4):333-6
Ankle osteomyelitis – an unusual presentation. Robati S, Porter K, Shahid M, Crompton T, Sandiford N. J R Soc Med SH Rep. 2013; 4:35
Clinical Cases and OSCEs in Surgery. Churchill Livingstone. Second Edition. 2011. Chapter author.
ISBN: 978-0-7020-2994-3
Presentations
Paediatric upper limb fracture manipulation in the children's emergency department: a successful treatment that provides cost savings. P Cameron, D Rad, E Lindisfarne,  A Vaughan, T Crompton, N Maripuri • EPOS 2017
The prevalence of bifid iliopsoas tendon on MRI in children. Crompton T. •  EPOS  •  Marseille 2015
Do we learn more from pulp fiction or the BJJ. Crompton T, Mills R • Children's Orthopaedic and Spinal Regional Research Day • Dec 2014 (Podium)
'We don't fix enough of these': Management of displaced intra-capsular neck of femur fractures. Crompton T • Annual Pott Meeting 2009 (Podium)
GMC registration: 6101649
Full licence to practice since August 2005
Medical Defence Union No: 366870I
ICO registered: ZA488578
" We as parents have complete confidence in all that you do, and have done for us, and appreciate your commitment to McKenzie. Your attention is both professional, personal and fills us with confidence and it is much appreciated. "
McKenzie's Dad